Congratulations to Deana Callahan of Long Prairie! She won a weekend for up to 4 people at Head of the Lakes Resort on beautiful Lake Osakis! Congratulations Deana and thanks for listening!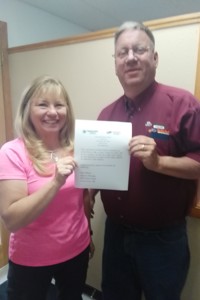 Deana Callahan receiving her prize from Allen Bailey KEYL/KXDL
Be listening for our new show, "In the Pits," with host Bob Kunz. Listen at 9am Saturdays on KEYL and Hot Rod Radio. We'll talk about local tracks and drivers, Regional Tracks, NASCAR and more!

Latest News
Upcoming Local Events & KEYL/KXDL Events
No events found.