KEYL and Hot Rod Radio wish the LPGE/Browerville Wolves best of luck as they begin Section 5A Tournament matches. Be listening for the opening round tonight (2/13/19) on 99.7FM Hot Rod Radio and on the internet at MSBNSports.net
Please be safe on the ice!

Be careful on the ice whether you are ice fishing, snowmobiling or anytime you are on a lake or river. We want you to stay safe! Many factors other than thickness can cause ice to be unsafe. White ice or "snow ice" is only about half as strong as new clear ice. Double the thickness guidelines shown below when traveling on white ice. The Minnesota DNR does not measure ice thickness on Minnesota lakes. Your safety is your responsibility. Check ice thickness at least every 150 feet.
Temperature, snow cover, currents, springs and rough fish all affect the relative safety of ice. Ice is seldom the same thickness over a single body of water; it can be two feet thick in one place and one inch thick a few yards away. Check the ice at least every 150 feet.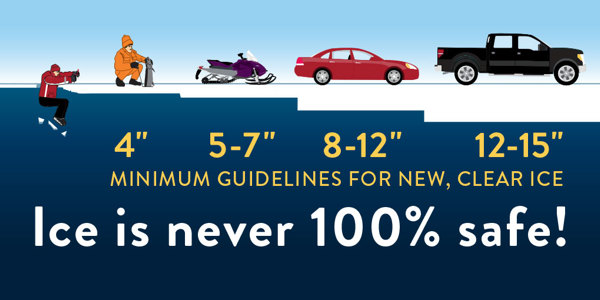 Latest News
No news found.
Upcoming Local Events & KEYL/KXDL Events
Get ready to shop Long Prairie if you're one of two winners of the Long Prairie Shopping Spree from Hometown Radio KEYL and 99.7FM Hot Rod Radio. 2 winners will each receive $500.00 in Long Prairie Chamber bucks and a list of our participating sponsor locations where you must spend the cha..